Product Specification and Instruction Downloads
Nature's Head Spec Sheet
Measurments
13 " wide at the base
19" front to rear
Overall height: 21"
Height to top of seat: 20"
Overall width, Spider handle: 17 3/4"
Overall width, Standard handle: 21"
Liquids bottle capacity: 2.2 gallons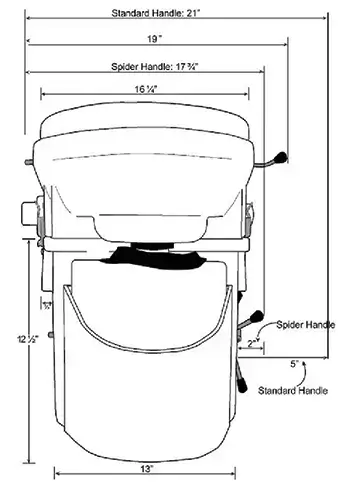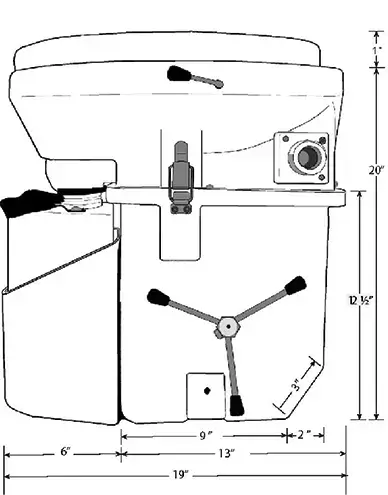 Features:
Full size molded-in seat for safety and comfort
Five-year Manufacturer's Warranty
All stainless hardware
Agitator handle can be mounted on either side
Meets all "No Discharge" regulations and is a U.S Coast Guard Approved type III marine head
Can be vented on either side of the unit
Is completely self-contained; needs no water for flushing
In the box:
5 feet of 1½ inch inside diameter hose with ends
Exhaust fan (pre-installed)
Inside vent flange
Agitator handle
2 mounting brackets and knobs
4 mounting bolts (for wood floor installations)
6 feet wiring for internal fan hook-up required for 12 volt system
Fuse holder and fuse for direct battery attachment
Allen wrench for installation of spider handle
Liquids tank cap
Installation and User's Guide with Warranty
OGO Spec Sheet
In the box:
The OGO™ Toilet
Mounting Screws
Vent Hose - 5' Length
12V Power Cable
Spray Bottle
The toilet is 15" deep by 16" wide by 18.5" tall, and weighs about 28 pounds.
Motor runs for 45 seconds
Solids bin has a capacity of 25-30 uses before needing changed
Urine bottle holds just over 2.4 gallons of liquid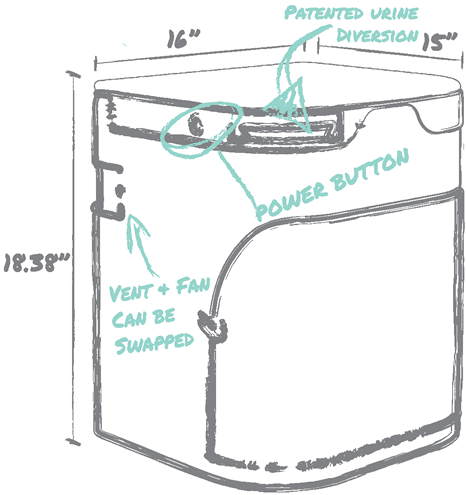 If you have access to 110V (optional - sold separately) Plug one end of the adapter into a wall outlet, and the other end into the small power jack (5.5 x 2.5 mm jack) on the back of the toilet.
If you only have access to 12V (provided in box) Plug the power end of the cord into the power jack on the back of the toilet and use the open leads to wire directly to your power source. The red wire the positive wire and the black wire is the negative.
Motor Power
On when mixing
5 Amp rating
Average Daily Draw:
Fan:

0.48 Ah/day

Motor:

.06 Ah/.day

Assuming:

4-5 uses per day

1.5-5.5 Amp draw

2 min. cycle time
Insert Swaps
The inserts for the venting/power and inlet filter can be swapped depending on which direction your power source/venting capabilities are coming from. Pop out the insert from the inside of the toilet, and pop them back in on the desired side.
Vent Hose
Your OGO comes with a 5 foot vent hose that has black adapters on each end. These hose ends fit a 1-1/4" PVC pipe. Place one end of the hose on the T-bar that's on the back of the toilet. The other end will attach to your exterior venting capabilities.
If you would like brochures for one or both products make your selection below and enter in your email address.